Lent?  If you have to ask, you can't afford it, right?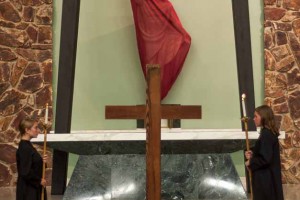 Not so fast!  Lent isn't just for church fanatics!
Consisting of the 40 days before Easter, Lent serves to prepare us for Easter.  That magic number is biblical, but also practical.  Changing habits, healing wounds–these things take six weeks, or one Lenten season!  So Lent is meant to be a new habit of faith.  Here are some of the traditional ways that's done,   along with some Trinity specifics help make it practical.
Lent begins with Ash Wednesday, and you can check out those details.  Here's what we do on Thursday and after:
Lenten Habit #1:  Fasting and Self-Denial*
What are you giving up for Lent?
There are many reasons to embrace this most popular Lenten Habit:
Get rid of the clutter and find space–spiritual, physical, mental
To remember those who don't have the luxury to give something up
Because it's tough!  Christ meets us in our weakness.  Lent is a good time to remember that.
Give up:  luxuries, excuses, habits, stuff–whatever gets in your way as you follow Christ.
Lenten Habit #2:  Prayer and meditating on God's holy Word
Lent is the perfect time to set up a spiritual discipline of prayer, and here's how.
First—set a time.  First or last thing in the day—there's no time in the day for prayer unless we make it.
Next—structure!  Use a Lenten devotional, Forward Day by Day, the Daily Office, or other sources, to get some new ideas.
Speak and listen–You set off to pray but end up obsessing about something else entirely.  Writing in a journal, meditating on the written word–these can help you keep your focus.
Practice–the six weeks of Lent can help you build the prayer habit.
Lenten Habit #3:  Self-examination and repentance
Notice: what are you learning through these habits?  Lenten practices invite us to think:  What am I learning about myself?  Closely tied to that question:  Repentance in choosing new ways and priorities.  Write insights.  Talk.  Speak to the clergy about Reconciliation (Private Confession).
Lenten Habit #4:  Study
On your own:  Read a spiritual book; read the Bible, Google a topic of interest, follow some blogs.
At Trinity:  Thursday nights will be devoted to learning something new about the issues of our world.
In another group:  Do you dare to try a Bible study?  Materials are available at Trinity.
Lenten Habit #5:  Generosity
Closely related to self-denial, giving helps us confront our inner selfishness and recognize our blessings.  Some possibilities:
Give up a treat and donate the money saved
Have a simple meal regularly, and donate the money saved
Offer your time for a good cause–Trinity has lots!
Save and donate your change.
*These traditional Lenten activities are called habits because it takes 6 weeks for a new behavior to become a habit.  At the end of Lent, you may have a new habit!  So what's your Lenten plan?