Politics and religion–do we really want to go there?
For Trinity, following Jesus means that we meet now and then with believers of other faiths, not to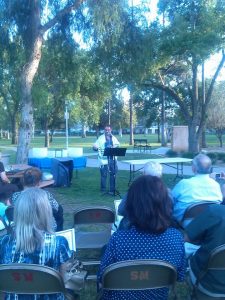 change their minds, but to be reminded that the God we worship is bigger than our understanding.  National Day of Prayer provides an important opportunity for this encounter.  Trinity joins Buddhists, Mormons, Muslims, Baha'is, and others in praying for our country.  The prayers we hear might be in different languages.  Sources, symbols and styles sound unfamiliar.  However, we will be united in a vision of national unity, diversity and peace.  Interfaith prayers offer a common vision of what we want our country to be.
Wait–that's political!
I'm glad you noticed.  Putting politics and religion together in one sentence seems risky.  What about separation of church and state?  There's something uncomfortable here.
Really, why do we separate politics and religion?  Is conflict that scary? Do we really think the Gospel is irrelevant to political issues?  Or are we afraid that shedding the light of the Gospel on our politics might reveal something we don't want to see?
Politics can't stop faith–prayer inspires political thinking!
Fear always provides an opportunity for spiritual growth by pointing to places where we try limiting God or ourselves.  Faith gives the courage to face these false limits, letting us grow past them.  When politics and religion collide, we can follow Christ in repentance and renewal.  Politics can't stop faith, prayer inspires political thinking! The Bible is a political book, recalling the political ways God's people have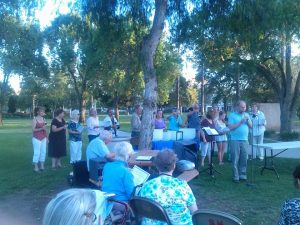 loved God and neighbor.  Christians have political work to do.
I close with a political prayer, brought to you by the Book of Common Prayer–one of many presenting patriotic ideals enlightened by Christian faith.  Join us Thursday, May 4th in Grape Day Park at 6pm for National Day of Prayer for the whole picture.
Thanksgiving for the Nation:
We thank you for the great resources of this nation. They  make us rich, though we often exploit them.
Forgive us.

We thank you for the men and women who have made this
country strong. They are models for us, though we often fall
short of them.
Inspire us.

We thank you for the torch of liberty which has been lit in
this land. It has drawn people from every nation, though we
have often hidden from its light.
Enlighten us.

We thank you for the faith we have inherited in all its rich
variety. It sustains our life, though we have been faithless
again and again.
Renew us.

Help us, O Lord, to finish the good work here begun.
Strengthen our efforts to blot out ignorance and prejudice,
and to abolish poverty and crime. And hasten the day when
all our people, with many voices in one united chorus, will
glorify your holy Name. Amen.