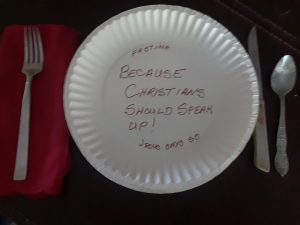 In May, our Presiding Bishop, Michael Curry, issued a call to action, asking the Church to fast in solidarity with families struggling with hunger.  This fast will take place on the 21st of each month.  Here's why:
The Biblical example:
In the Old Testament book by the same name, Esther, a Jew and the wife of the Persian king, finds herself in unique circumstances.  When plans were made to slaughter all the Jews in the empire, Esther's cousin Mordechai pleaded with her to go to the king and use her voice to advocate for them, even though this might place her life in danger. Despite the danger, he tells her she cannot be silent.  Perhaps she has been put in this position "for such a time as this" (Es 4:14). Esther asks people to fast and pray with her for three days as she prepares to approach the king.
Like Esther's people, Trinity joins this fast as an act of solidarity.
What are we joining?
The 21st of the month is when families who receive SNAP (food stamps) typically run out of resources.  We fast in solidarity to draw attention to the problem of hunger in our country so that as a nation we will be inspired to find solutions.
Is this political?
Political policy impacts all our lives. Decisions will be made about SNAP and other programs which reduce hunger and poverty.    Our vigilance ensures that the hungry (who have no lobbyists and make no financial contributions) are remembered.  Progress has been made in reducing poverty and hunger in the US; progress through policies supported by politicians of all sorts.  In such a time as this, we cannot ignore the needs of the least of Christ's people (Matthew 25).
What else?
In addition to fasting, you can learn more about hunger, its causes and solutions.  Many resources are available—here is a good place to begin:  Have faith, end hunger 
Take the time to advocate for our neighbors by contacting your Congressperson.
Share your action and insights with friends via social media.
Donate money saved through fasting to a food bank or other poverty-related charity.
Bishop Curry's call:
"God's intention is the flourishing of all people, and we are called to participate in God's loving purpose by standing with our neighbor who struggle with poverty and hunger…. and in opposing cuts to vital anti-poverty programs."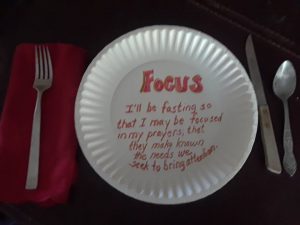 Listen to Bishop Curry's call to action here:  Episcopal Church calls for advocacy
At Trinity we will prepare for our first fast by gathering for evening prayer on Thursday, July 20th, 7pm.  Join us.