Date/Time
Date(s) - Thursday, April 13
7:00 pm - 9:00 pm
Location
Trinity Episcopal Church
"On the night before he died for us…."  Maundy Thursday is that night. Our service tells the story of the events of that night in four stages.
We begin with the story of an event recalled only in the Gospel of John, where Jesus enacts what it means to love one another, which is his last commandment to his disciples. The word "Maundy" means c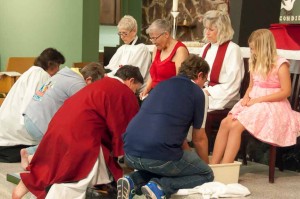 ommandment, and this is the first.  We will have the opportunity to participate in our own footwashing event, acting out the ritual that Jesus began on that night, illustrating love.  Although this ritual is often reserved for clergy, at Trinity all parishioners are invited to both serve and be served.
The second commandment is that one so familiar to us all, in our weekly remembrance of the Eucharist.  The story of Last Supper always underlies this sacrament, and so it is essential that the sacrament be part of this service.  After communion, we will place the reserved sacrament at the side altar, the Altar of Repose, to be an object of veneration later in the evening.  Then we head to the parish hall for a ritual meal, where in candlelight and silence we hear the complete story of that Last Supper.  Finally we return to the church for the dramatic Stripping of the Altar when all decorations are removed from the sanctuary.  The emptiness of the church echoes the experience of the disciples who lost all hope and joy when Jesus was arrested.  A vigil of prayer continues throughout the night until noon the next day as we watch with Jesus at the Altar of Repose.  While the disciples could not stay awake and pray with Jesus as he waited in the Garden, we can fulfill their vigil, by working together.  Parishioners are invited to take vigil times, 1/2 or 1 hour, from the end of the service, through the night and ending at noon on Friday.
This service, so dramatic and participatory is accessible to worshipers of all ages.