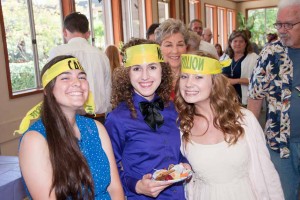 While Youth Ministry has always been a priority of Trinity, our congregation has a unique take on that task.  Many churches assume that teenagers are not capable of participating in the life of the congregation.  You will not  find Trinity's teen members segregated from the rest of the congregation.   Trinity has found that as we expect our teens to join in the community, so our teens have risen to the occasion.  We see no need to "dumb down" the worship experience in order to include teenagers.  In fact teens quickly recognize and dismiss attempts to pander to them.  Youth want an authentic encounter with the sacred just as adults do, and at Trinity they are given that opportunity.  Key to growth for any Christian is participation in worship.  All of Trinity's teens participate regularly in the worship services.  Some serve as leaders–offering their skills as musicians or readers.  But all participate as members of the worshiping community. Proof of the success of this project is the fact that teens who have grown up at Trinity continue to attend and participate, even after they are no longer pressured to be there by parents.  Trinity isn't trying to simply entertain teenagers for the few years of their adolescence; we hope to establish a life-long faith.
Having said that, there is certainly a place for building teen community at Trinity.  Trinity's Youth Group is not simply a recreation of the school teen social scene! All are welcome, and all are encouraged to move beyond the usual restrictions and hierarchy of teen society to connect with peers they might not normally friend at school.   This approach appeals to youth from a variety of backgrounds, and from all the schools in the area.  Our Youth Group operates a variety of programs, regular and occasional.
Regular:  Currently our Youth Group holds its regular meetings on Sundays, after the 10:00 service.  Sunday meetings provide a discussion opportunity for Trinity's teens.  In the last few years, Youth Group discussion topics have included Bible study, other faiths (including visits to other faith centers), and how to make Christian choices.  These topics are decided upon by the youth members.
Occasional:  There's more to church life than talking!  Trinity's Youth Group frequently engages in service projects, both as part of the Trinity community (leading Vacation Bible School, for example), and through Interfaith Community Services.  Members of the Youth Group participate in Diocesan mission trips as well.  Finally, there are the social activities of the Youth Group, from trips to the beach to cook-outs and overnighters.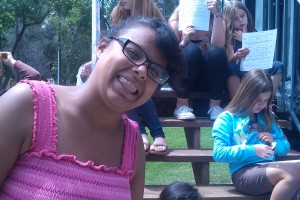 Youth Group is not the only way that teenagers participate in the life of Trinity.  Many teens serve in a variety of ministries, from teaching Sunday School to acolyting.  Wherever a teen is in his/her spiritual journey, wherever a teen is in his/her maturity and identity, that teen is welcome at Trinity!
Meeting times:
Youth Group – Sunday Mornings, 11:30am (just after the 10am service)