Weddings
To bless a relationship is to recognize that relationship as a gift from God.  A blessing asks for God's protection and presence while anticipating that the relationship can and will be used by God for good.  In the Episcopal Church, marriages are sacraments, signs and means of grace.
Weddings celebrated at Trinity conform to both State and Church law.
Following Canon, at least one member of the couple must be a baptized Christian.  Couples will meet several times with the clergy to prepare for the wedding and marriage itself. For couples where one or both persons has been married and divorced previously, other requirements apply; see the clergy for details.
The life-long commitment to marriage is indeed a life-changing decision, and Trinity is delighted to assist in making this day one of joy and meaning.  Weddings at Trinity follow the marriage ceremony found in the Book of Common Prayer.
In accord with Canon and State law, our community welcomes the opportunity to bless same-sex couples.  The same rules for couples' preparation apply.  The service follows the Blessing Rite approved by the 2012 General Convention of the Episcopal Church.
Baptisms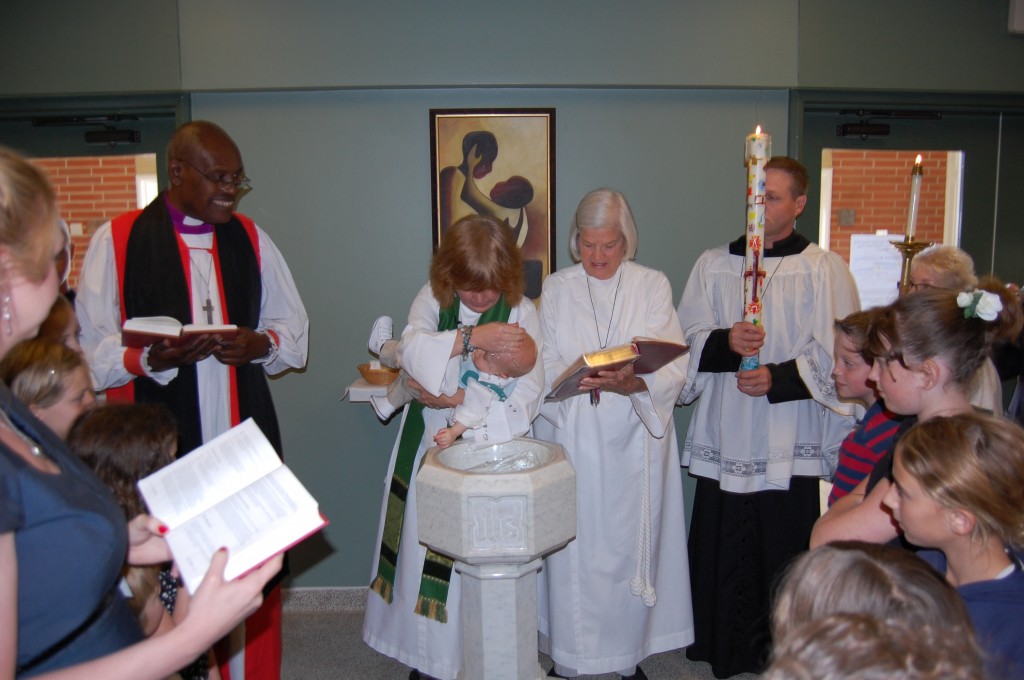 Baptism is the public statement of the intention to follow the way of Christ. In the case of infant baptism, parents and godparents make this statement on behalf of their children, promising to bring them up in the Christian faith.  The bond which God establishes cannot be broken, therefore baptism is only done once.  Trinity recognizes the baptisms done in any Christian church.
If you feel ready to make this commitment to the Christian life, or if you want to make such a commitment on behalf of your children, by all means talk to Trinity's clergy!  They can answer questions and prepare you for this important milestone. Baptism should not be seen as a conclusion, but rather the beginning of the faith journey.  It is not essential that people being baptized understand every detail of the Christian life. but rather that they be open to the journey of discovery along the way.
Baptism is a celebration and commitment of the entire worshiping community, therefore baptisms at Trinity are not normally private, but are done during the 10:00 Sunday service.  A class is held the day before for participants, godparents, and families. Certain festivals are most appropriate for baptism; check with the clergy to schedule.
Funerals
We hope to be of assistance to you as you mourn your loss. Whether or not your loved one was a member of the church, we can help you create an appropriate worship experience.  The Christian funeral service is a celebration of our faith in Jesus' Resurrection and victory over death.  Such a service provides an opportunity to remember our loved ones in God's presence, giving thanks for their lives.  Grief is not unChristian, but rather a reminder of the bonds of love that bind us to one another, even beyond the gates of death.  Whether you need assistance with a funeral, graveside or memorial, contact the clergy for details.
Special Events in the Trinity Parish Hall
Our Event Hall and Community Center is available for rent for special events like birthday party's, anniversary parties, quinceanera, family reunions, fundraisers, etc. We'd be happy to talk with you to see if your date is available.
About the Trinity Event Hall
150 Person Occupancy
Table and Chairs Provided
Full Kitchen Available
Separate Rooms for Dressing
Saturday Rental: 9am – 10pm (Plus 5pm – 7pm the night before)
$1800
Please send me more information about special events at Trinity

SaveSave