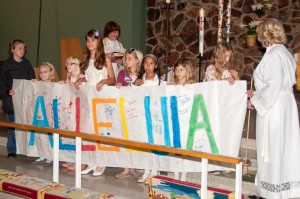 "I'll bring my children when they're old enough," many parents promise, not quite clear when that age will be. Any age is an appropriate age to join the church, but for parents there may be no age when bringing children to church is an easy task. This section is meant to support parents in that crucial task of bringing children to church and faith by providing reasons and incentives, as well as advice and resources.
First, Children need the Church
Yes, the church provides an education in all things Christian – the Bible stories and beliefs, prayer and answers about God. But that's not all. Even if your children attend a Christian school, they will not receive the benefits of church membership, because belonging to a church brings so much more. Children need the church because…
It provides an alternative to the fast-paced materialist culture that surrounds us. Commercials on TV, video games, movies – the message is entertainment, always bigger and better. Yet life's gifts are so much more. As human beings we are meant to be more than audiences and consumers, and the church is where that message is.
Children learn that they are valued and loved as God's creation. Even small children have a need for forgiveness. In the church we believe in second chances.
Children learn they belong to Christ and to his community. Here they belong with friends and mentors of all ages, their worth not dependent upon their ability to compete or produce.
Children experience the beauty of music and art as expressions of human creativity and of worship.
Children learn the foundations of the faith: learning stories, memorizing the Lord's Prayer – all to support them later in life.
In church children experience the stillness of a holy place. Where else will they find peace?
The Church Needs Children
Yes, we want to pass the faith on to the next generation. But the presence of children matters now, not just in the future. We need children because….
Children serve as reminders of grace. Just as children receive communion by virtue of their baptism and not by their understanding, so we all receive Christ's presence as a gift, not because we are worthy.
Children bring gifts of faith to the community. Who else will ask the questions that a preschooler asks? Or bring the enthusiasm? Who can challenge like a sincere adolescent? When we listen to them, children serve as prophets, calling us adults back to the implications of our faith.
Teaching the faith gives us a greater understanding of our own traditions.
Bringing the Family to Church
Getting dressed and out the door on Sunday mornings is somehow much easier said than done. Here are some suggestions for improving Sunday mornings.
Plan ahead. Sunday mornings begin with the plans and intentions of Saturday night. Some families choose clothes the night before or plan a particular easy breakfast.
Prioritize. Make Sunday morning in church the rule, not the exception. Bring friends, wear the soccer uniforms, whatever it takes to show your children that spending time with God is not just something we do when there's nothing else to do.
Prepare. Discuss expectations before getting to church. Younger children might need to bring a favorite stuffed toy. Get to Sunday School with time so you can prepare yourself for worship.
Repeat. Church attendance works for children when it becomes a familiar routine. One or two experiences will not bring you or your children a sense of peace.
Relax. Keep your expectations reasonable. At Trinity the nursery and toddler corner mean that you do not have to attempt to keep preschoolers quiet and still on a hard pew. Even older children cannot act like little adults for long. Don't worry. Your children's behavior is much more distracting to you than the rest of the congregation!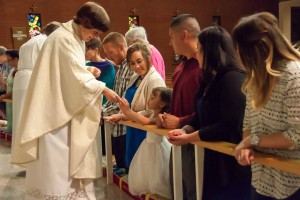 Work. Help your child follow along in the book or find pages if they can read. Point out what is happening. Sit where they can see. Make Sunday morning a time of togetherness and conversation.
Recall. Talk to your children about church afterwards. What did they hear or learn? Who did they meet?  The more church is a part of your life and attention, the more it will matter to your children.
Try again. Even Jesus gave his parents trouble when going to worship (Luke 2:41-50). Some Sundays may be more difficult than others, but over time, persistence works.