We're creating a community, educational, inter-generational garden to: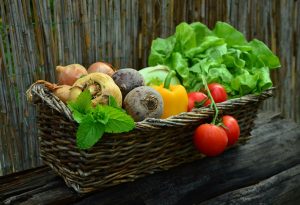 Provide 40 garden plots for those who wish to grow and harvest vegetables for personal use,
Teach the seed to table process,
Create interaction between young and old in our neighborhood, and
Promote sharing of excess produce with families in need.
The garden is currently under construction and will offer the community 40 ground-level plots (4′ x 12′) and 10 accessible raised beds (4′ x 4′) designed to support our educational and inter-generational goals. Escondido urgently needs additional plots—most of the other community gardens have long waiting lists.
A quarterly fee of $25 will cover the cost of water and maintenance; sponsored plots will be available for those who have financial hardship but wish to participate.
Let's work together to make  this a wonderful addition to the historic Old Escondido neighborhood.

---
To learn more…
Please use this web form to contact us, or call the church office at (760) 743-1629 and leave your name, address, telephone number and e-mail address, and indicate that you are interested in the community garden project.
*Your confidential information will be used only to communicate regarding the Trinity Neighborhood Garden; it will not be shared outside the garden project.