Meet our Director of Sunday School Ministries – Lynn Meurs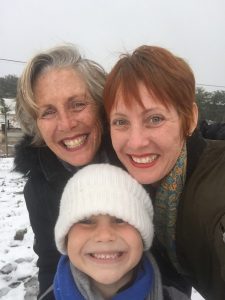 "I am a long time Ramona resident. When I was with St.Mary's in the Valley Episcopal Church, I was Co-Chair of the Outreach Ministry. Every year our Back to School Shoes and Socks program gave new shoes, of the child's choice, to well over a hundred needy children. During my run, we doubled the donations and the number of children that we were able to help, from every corner of the community. It was a joyful thing to see the kids picking out their shoes. We really worked to see that those who needed shoes and socks got them.
 I attended San Diego Episcopal Diocese School for Ministry, located at the Episcopal Center in Ocean Beach. It was a marvelous experience. I spent two years studying the bible and doing a course in pastoral care. Hebrew Bible studies were my favorite, where I took honors in Hebrew Bible I and Hebrew Bible II, (also known as the Old Testament.) Studying the bible and teaching it to children is a passion of mine. Nobody is too young, or too old, to learn something new about God's love for us. My main goal is to help the children learn to build Christian community right here, right now. My daughter Mary and Grandson Arie Isaac are going to be helping me out."
Join US! Children are dismissed as a group from the Family Service on Sundays at 10am
---
Sunday School Programs:
Curriculum: Sunday School lessons are based on the Lectionary and Book of Common Prayer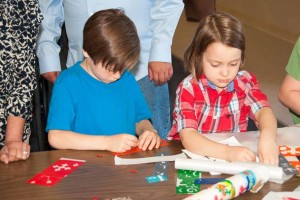 Children at Trinity usually participate in one large class. The "one-room" schoolhouse approach assures that siblings or best friends and guests do not need to be separated. The insights and concerns of parents at Trinity create Trinity's Sunday School experience. Parents are welcome to assist at any time, or even just watch. Sunday School is a year round program for children of all ages. Children who would like to participate in Sunday School simply join their family for the 10am service and are ushered off to class with their teacher as the service begins.
Intergenerational Special Events:
The Gospels tell us of the crowds that surrounded Jesus as he taught – crowds that included families with children. While Jesus seems to have been comfortable teaching multigenerational crowds, his present day followers don't often follow that example. So many separate activities are planned for separate age groups that families who come to church looking for time together can find that the church provides little or no family time at all. This isn't true at Trinity, where seasonal activities are planned for all ages.
With crafts, games, and always something to take home, we get in touch with Christian traditions and practices that can become part of daily life. We also experience the unique reality of a Christian community, one where all ages can learn to value each other. Look for intergenerational events in Advent and Lent, as well as special ones to prepare for baptism and other celebrations. Bringing the whole family of God together is one of the purposes of Trinity's life and ministry.
Check Here for Scheduled Events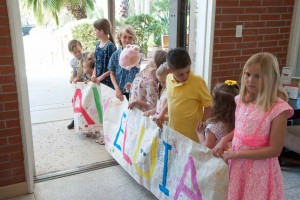 Nursery:
For babies and toddlers, Trinity's nursery is staffed professionally during the 10:00 service, Holy Week, and most evening services and events. Teen volunteers assist as well. Parents are invited to assist as needed, or to take a respite while the little ones are happy and safe.
Want more information?
If you need more information concerning Trinity's Sunday School program, please e-mail Rev. Meg at rector@trinityescondido.org
SaveSave
SaveSave
SaveSave
SaveSave
SaveSave
SaveSave