Taking prayer seriously–it's something a Christian should do; can't argue with that!  But prayer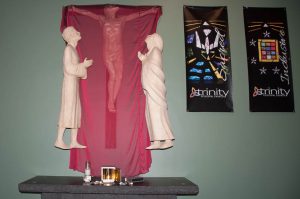 itself–prayer that is more than a wish list of items for us and our friends, more quick thanksgivings at a red light–prayer seems hard.  How do you find the time, the words, the structure?
That's where the Episcopal church has so many answers, and what we at Trinity are going to explore this Easter Season.  The Book of Common Prayer offers a great resource.  For starters, we have a list of concerns (we use this on Sunday):
•The Universal Church, its members, and its mission
•The Nation and all in authority
•The welfare of the world
•The concerns of the local community
•Those who suffer and those in any trouble
•The departed (with commemoration of a saint when appropriate)
Next, we have written prayers called "collects," which are meant to summarize concerns in a way that lifts us above our personal concerns.  Last, there's a system for reading the Bible, which we all want to do someday.
Each Sunday, we will have the weekly scripture readings in the bulletin,  a few chosen collects, as well as the structure of what is called, in quaint Episcopal terms, the Daily Office.  Doing this does require taking the insert home.  Yes, it is homework.  But–the point is, you can do this!
Stay tuned for more information, or better yet, just get the handout on Sunday!